« BlastCasta Just Released!
•
Blog Homepage
•
Feeding Frenzy »
Combine and Filter Feeds, Landing Pages, and More...
March 22, 2008
We just released several new items that you may find useful. The first is the ability to
combine and filter feeds
.
Being able to combine and filter feeds will lend itself beautifully to content sites that have many different feeds and like to give the flexibility to their readers. In addition, feed users can combine several feeds, be able to read them in one place, and filter feeds on a particular keyword, phrase, or limit the number of feed items. We could go on forever with the number of possiblities here, of course, such feeds can be used for the BlastCasta
news script generator
as well.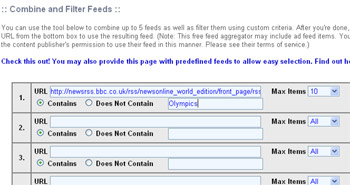 We also now have a highly customizable
feed landing page
creator. You can create a feed landing page that fits your style for a feed (even a transformed feed) and use it to display the contents of your feed in a user-friendly manner as well as allow easier subscription to it. The best thing about this is that your readers will have options on the feed landing page to combine and filter the feed, if they desire.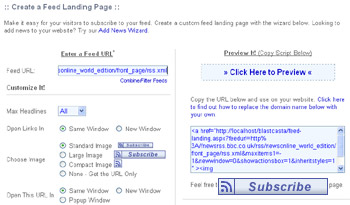 Continuing with our theme of customization, we officially present
"Save & Share"
, a script you can easily add to your site to allow your readers to share and bookmark pages. Like many of our other services, this one is customizable to fit the look-and-feel of your site. This free service is meant to promote traffic to your site by easily allowing readers to share your pages.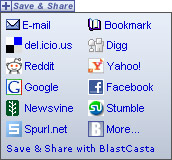 Finally, we now offer a
Flash version of our news script
that will work on pages where JavaScript is disallowed such as social networking sites like MySpace and Facebook. We'll work on getting this approved by MySpace and other social networking sites to appear in their widgets collection.
Subscribe to our
blog feed
or
newsletter
for the latest in BlastCasta's offerings and feed technology.

Comments
No comments posted yet. Be the first to add a comment!